Companies in KKCG's technology pillar are changing. Qinshift to be spun off from Aricoma
Prague, June 29, 2023 – Aricoma, part of KKCG Group, announces it will now operate under two major brands as it consolidates its position as an international Information Technology (IT) leader. Companies focusing on custom software development will form Qinshift, which separates from the rest of the group adopting the Aricoma brand. Over the last six years, the KKCG technology pillar has grown to become a leading European IT player with annual revenues of nearly EUR 500 million (CZK 11.7 bn), employing more than 4,000 experts across 13 companies. The change announced today will enable further specialization within KKCG's technology pillar by allowing each entity to focus on its core competencies, driving further growth and delivering increased value.
"Now we have reached a point when our operations are sufficiently comprehensive and large to form two separate, specialised companies,"
said KKCG's Investment Director, Michal Tománek.
"We believe that the establishment of Qinshift and the acceleration of the original Aricoma brand will be a catalyst of growth for both companies, helping our group compete more effectively on the global market."

Aricoma
will unite brands focused on IT infrastructure, cloud, corporate applications, cybersecurity, the digitalization of the public sector and system integration. It will include Autocont, a local market leader in IT services; cybersecurity experts AEC; software developers for public sector CES EA and part of Komix, and e-commerce experts Internet Projekt. The gradual rebranding process will be completed at the end of the year.
This year's acquisitions – SAP focused Sabris Consulting and Consulting 4U, and public sector software developers SYSCOM Software – will follow later.
"This represents an exciting step in Aricoma's journey. Over the last three decades, colleagues across our companies have diligently built Aricoma to become a hub of experience and expertise in ICT solutions,"
said Milan Sameš, CEO of Aricoma.
"Under one name, we will establish ourselves as an active, reliable, and dynamic partner in the digitalization of both the public and commercial sectors, both in Czech Republic, and in the rest of Europe. Our immediate expansion plans involve the DACH region where we see many opportunities."

Qinshift
will integrate six companies with expertise in software design for commercial sector. It includes Seavus, a Scandinavia-centric custom software developer and Stratiteq, a Sweden-based company, specialized in data analytics, Cleverlance, a Czech and Slovak leader in business digitization services and part of the Czech corporation Komix, which has a strong presence in the automotive industry, will join Qinshift by the end of the year, while Clearcode, a global partner for advertising and marketing software development, and MusalaSoft, a Bulgaria-based outsourcer serving blue-chip customers, will follow in 2024.
Qinshift, will aim to expand further across Europe, the United States, North Africa, and eventually Latin America, integrating cutting-edge AI services into its comprehensive portfolio.
The renewed emphasis on the specialization and agility of both entities, while bringing individual companies together in the process, will create more dynamic environments to foster collaboration, innovation, and better serve a diverse, prestigious international client base from both the public and private sectors.
You can find more information about the new brands on their new websites:
Aricoma:
www.aricoma.com
Qinshift:
www.qinshift.com
Important information
The renaming in the Aricoma group will take place in two waves:

1 September 2023
AEC, KOMIX, CES EA and the Brussels office of Autocont International will become Aricoma.

1 January 2024
The remaining part of the company, i.e. Autocont and Internet Projekt, will be renamed Aricoma.

Aricoma also includes the recently acquired companies Sabris Consulting, Consulting 4U and SYSCOM Software, which will retain their names for the time being.

FAQs:
Why are we changing the name?
After five years of building and growing a strong new group, it's time to reflect this with a new unified brand. We are already fully integrated internally and under one name we will be able to offer clients comprehensive services across the IT industry more easily and with better quality. As Aricoma, we want to strengthen our position in the domestic market and in Western Europe, which will be more understandable under a single brand. And as Aricoma, we can collectively attract the best talent from different industries.

What changes for customers or partners with the new brand?
From a short-term administrative perspective, only the company's billing information will change specifically. However, we hope that in the long term our customers will feel the change especially in the quality and breadth of services we offer.

Do new contracts have to be signed or billing details changed?
In the vast majority of cases, legal information other than the company name will not change. In some cases, there will be a change in the company ID/VAT number, but even this change does not affect our contractual relationship and will not require a change in contracts. Of course, we will inform all customers in advance and in detail.

What happens to the other companies that were in the Aricoma Group but you no longer mention them?
The companies Cleverlance, Statiteq, MusalaSoft, ClearCode and Seavus focus on the development of software applications in the commercial sector. Like us, they remain in the technology pillar of KKCG, but are grouped under the Qinshift brand. We will continue to work together. We are all part of a strong international group.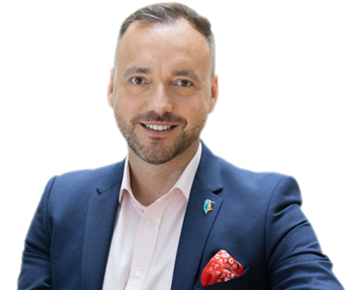 Media contact
Michal Malysa
Head of Brand and Communications